Someone who never writes about himself in the third person. I've spent 26 years working in PR, nine in agency and the remainder working as a freelance PR consultant. Working primarily on global brands, my agency life includes BCW, H+K Strategies, Porter Novelli and Havas PR.
My early days were spent primarily on consumer and youth accounts during which time I co-founded BL Alternative, Biss Lancaster's specialist youth marketing division. In later years I worked on more issues based, government and technology business, including co-founding Hill & Knowlton's consumer technology group in 1999. When I left H&K I concentrated on building my role as creative director, firstly for Village PR, then Catalysis, and then as Digital and Creative Director for Havas PR. I was responsible for devising strategies, churning out ideas, staff and client training, running brainstorms and looking after our consumer business.
Industry awards include PRWeek Best Promotional Campaign for Bertie goes to Sotheby's, a PRCA commendation for Re-Turn Bertie, and a PR in Food Marketing Bronze award from Marketing magazine for a cheeky tethering of a 155 ft tall hot air balloon in front of the TV cameras at the London Marathon. The Bridget Jones Diary SMS and FHM's High Street Honeys campaigns were both finalists for PRWeek Awards.
I now work in the UK as a freelance public relations consultant specialising in online PR, designing and writing websites, dabbling in guerrilla marketing and managing social media for a range of clients, in the UK and globally.
The name 'TopDog' came about as a homage to my faithful, forever happy English Bull Terrier Tilly, who, when she's not sleeping or playing with a mangled old rope, provides a constant distraction from anything constructive I might dare to attempt.

Contact me for an obligation-free chat to discuss if I may be able to help you.
WHY HIRE A FREELANCER RATHER THAN AN AGENCY?
Because a typical agency cares about their business, not yours.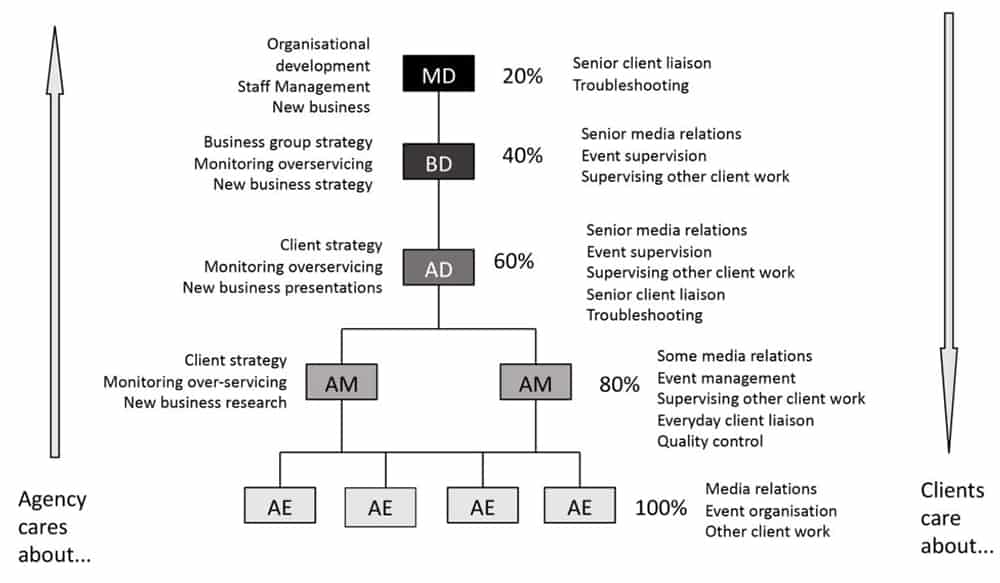 The above chart illustrates the hierarchy of a typical PR agency. The usual routine is bring out the big guns to win your business, and when contracts are signed, you see very little of the senior team who you thought you were buying.
The majority of the day-to-day campaign activities are routinely carried out by the most junior staff, who are responsible for representing your brand to journalists and direct to the public via social media.
Meanwhile, senior staff, while supervising overall strategy or being drafted in to handle the occasional crisis, are more focussed on their own P&L objectives. There is some senior client liaison, but the majority of their time is concentrated on new business prospecting, managing people, and developing their own business.
Having worked in many large agency environments, it didn't take long to realise there had to be better, more cost effective ways of serving clients.
By hiring an experienced, well-connected freelance consultant, you are paying for their skills, expertise and experience. Many consultants make the decision to go freelance because they relish the 'doing' rather than the managing.
And any competent freelance consultant knows their future earnings and reputation are on the line with every job they do. 
Drop me a line if you'd like to discuss my freelance PR, social media or web design services, or just to say hello!
Email: bill[at]billhunt.co.uk