Many Public Relations Agencies Talk Nonsense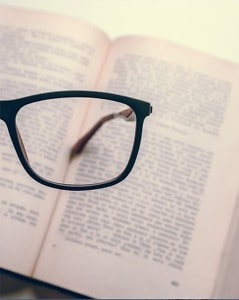 I laughed at a Facebook status update from friend and author David Meerman Scott:
"Gobbledygook alert!! Osskinteractive. What does this company do? "results-oriented, cost-efficient solutions…"
Too right. Some of us like to think that we can be relied upon for straight-talking…..at least as far as you can be in PR.
A few years ago, while working for the Village PR, I launched our own anti-jargon campaign. We sent out a 100% cotton facecloth embroidered with the message "The Only Flannel You'll get from the Village".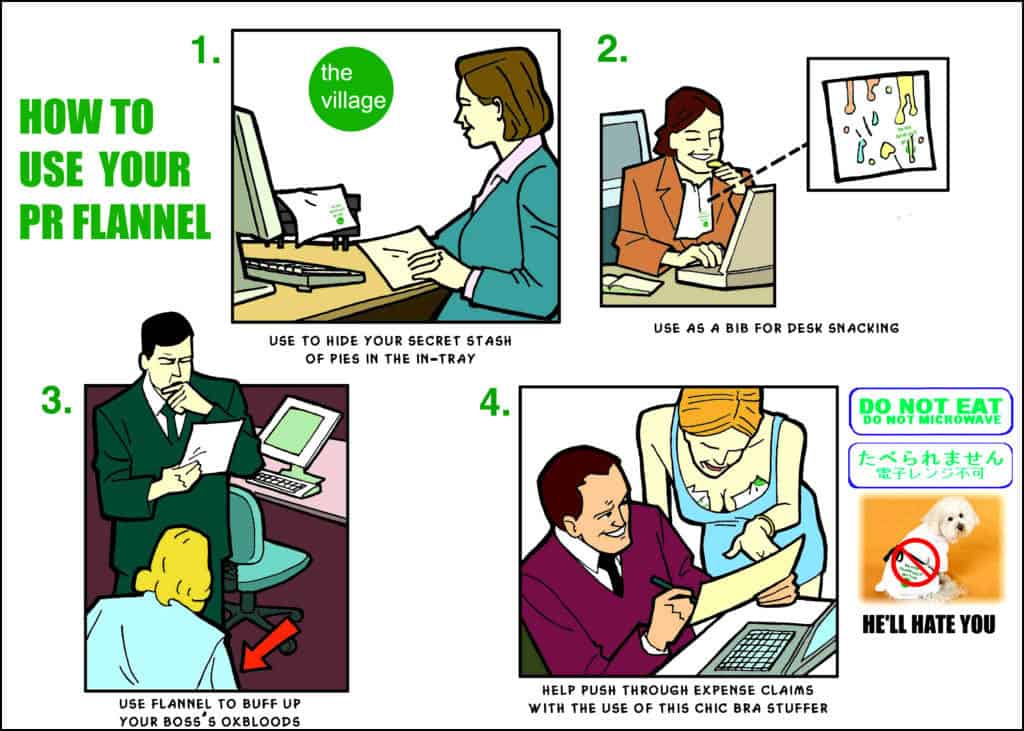 We could have launched the campaign thus: "The worlds leading global communications specialists today announced the launch of a unique multi-platform media relations service solution which enables companies to leverage the latest cutting-edge copy creation techniques in the transmission of its brand messages to segmented target audience groups."
Instead, we put out a release alerting people to the level of corporate flannel we found when researching PR jargon, and launched a service for other PRs to send us their press releases to be re-written in English.
We also called a few business journalists and discovered that their most hated words were "global, first, leading, cutting-edge, solution, leverage, and end-to-end". One also said that if they saw another CEO "delighted" or "pleased" to be announcing something they would hit someone.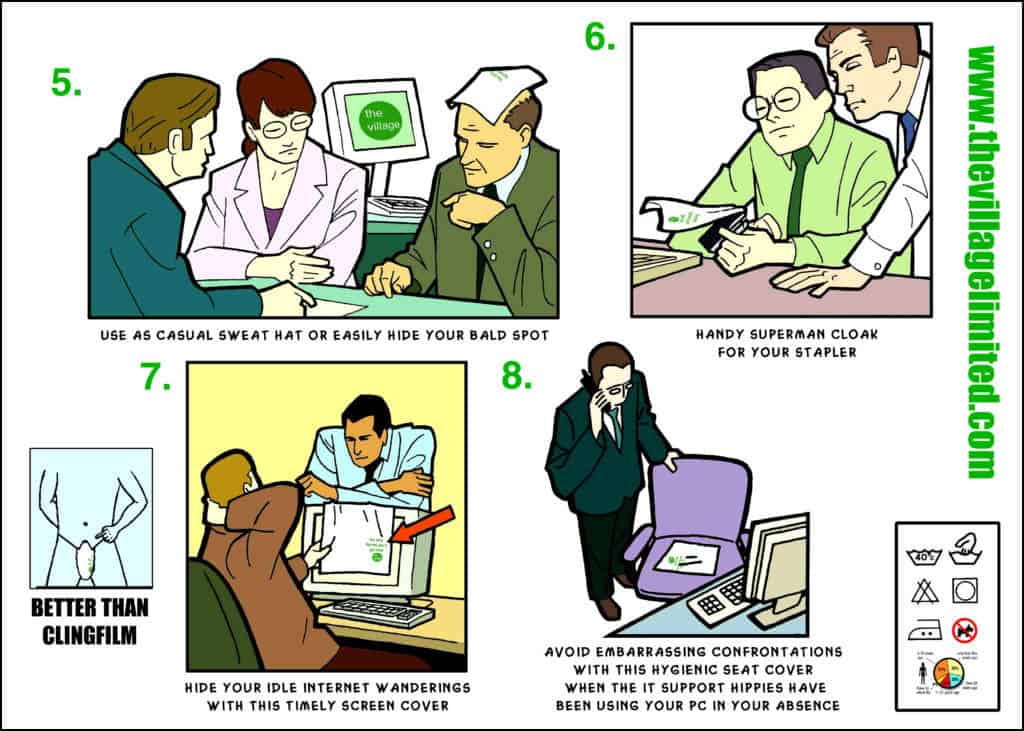 So why do PR people do it? Our theory was that the PR industry is fundamentally insecure. Although what it sells is very powerful – a client's 'story' told by the influential voice of the media – the problem is that you never really know how the media are going to treat your offering. As a result, it has cosseted itself with a language to aggrandise itself but also to obfuscate clients and journalists.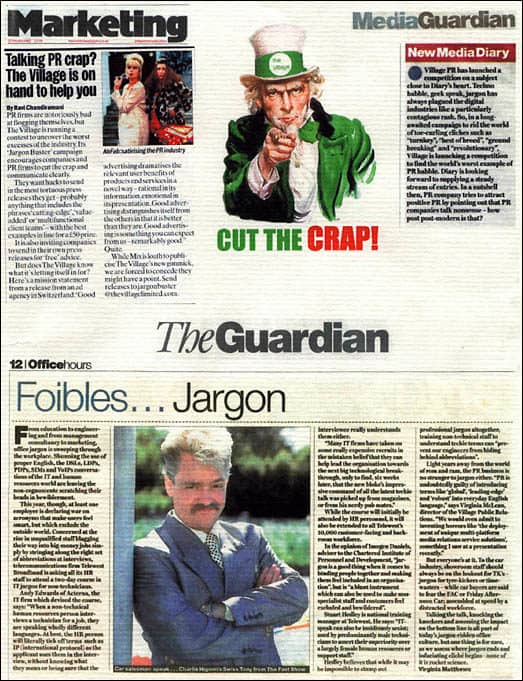 The best example of PR industry pomposity we found was from Quentin Bell who wrote a book called 'the PR Business, an insiders guide to real-life public relations (1991)'. In it he claims he was so unhappy with existing definitions of public relations that he came up with this to describe what QBO (his agency) did – "The identification, segmentation and persuasive interpretation of valid messages to key audiences, the results of which can be investigated against strategic objectives."
He also took 3 words – identify, interpret and investigate – which he "packaged" into a special logo which he sold as "an operating system, a failsafe methodology of implementing all and every PR campaign".
This from a company whose job is to help companies communicate.
Other sins occur when PR people are actively trying to get coverage. Some stories capture journalists' imaginations and run and run and others, apparently similar, only make it as far as the bin. Difficult when you have clients who think they should be on the 10 o'clock news for the launch of a pen when there's an international war going on. So the tricks of the trade are applied to make a story sound more important than it is.
"leveraging a robust solution"
A terrible example of the aggrandisement of a story with corporate-babble and jargon is this press release from a clay tablet company, found by Jeff Chappell writing for Electronic News:
"The world's leading clay tablet company, Babylonian Tablet Corp., is pleased and excited to announce today that it is launching ClayMud [TM] , a new world-class tablet technology. Leveraging the company's experience in mud-brick technology, Babylonian Tablet has developed a new industry-leading state-of-the art solution that will revolutionize cuneiform writing. By mixing clay from the Euphrates River with mud from the Tigris, Babylonian Tablet has developed a uniquely robust offering for royal scribes. ClayMud [TM] is softer than previous generations of tablet clays, allowing scribes to work more efficiently, while drying in half the time of competing clays, improving royal time-to-market by orders of magnitude lower."
And here's how it appeared in their trade magazine Cuneiform Weekly:
"Mud-brick and clay tablet maker Babylonian Tablet Corp. (BTC) recently rolled out its new ClayMud material for cuneiform tablets. ClayMud utilizes Euphrates River Clay mixed with Tigris River mud to produce tablet material that BTC claims is softer than previous-generation materials but cuts drying time in half."
As Jeff points out "so much for leveraging a robust solution."
When the issue is keeping something out of the media, PR people do the opposite. They play it down and issue a boring 'holding statement', hiding the really nasty news on page 4 of the press release.
This example is of a company trying to hide bad news in a dense tangle of jargon and was singled out by a writer on the Business Journal in the US: "Boston Scientific Corp. today announced a global operations plan to increase productivity and enhance innovation through a series of initiatives designed to improve supply chain effectiveness, strengthen manufacturing process control, and optimise the company's network of plants."
The real story was that they were cutting millions of dollars in operating costs, cutting 1,000 positions, closing several plants and shifting hundreds of jobs to Miami and Ireland.
"…intensify our focus on operational excellence and increase our commitment to innovation…"
CEO Jim Tobin was quoted saying: "This plan will enable us to intensify our focus on operational excellence and increase our commitment to innovation. This is a forward-looking plan (as opposed to all those useless backward-looking plans?) that says innovation is our future, and that we're creating the opportunity to make the necessary investments to support innovation and a robust future."
On the other hand, here is what Tobin told The Wall Street Journal: "It's a lot easier to run fewer plants well." Now that we can all understand. Why didn't they say that in the first place?
The Gobbldygook Manifesto by David Meerman Scott
To help us through the nonsense jungle, David put together a handy ebook – The Gobbldygook Manifesto which you can download by clicking on the image.
Talk about an all-in-one robust best-of-breed communications clarification solution.
And David was obviously thinking along similar lines here.